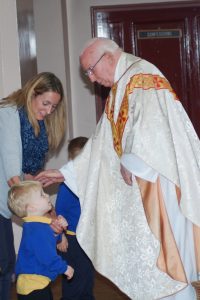 Each child is nurtured through the spiritual support of our Catholic ethos, Mission Statement and care.
'Pupils throughout the school display extremely good spiritual, moral, social and cultural development. The School's aims and Mission fully underpin the development of each child. Almost every policy and practice is steeped in the values the school aims to develop in its pupils including adaptability, enthusiasm, honesty, responsibility for others, awareness of the world around them and knowledge of the Catholic faith and understanding and respect of other Faiths.'(ISI 2012).
Our School is supported through our Chaplaincy with a Mass or Liturgy with the Pupils each week. Classes take turns to lead Liturgies and Pupils are encouraged to take part in role plays.
Our Year 6 Pupils help to lead our Masses and a Year 6 Pupil is given the role of Faith Monitor.
Our Friday Rosary/Prayer Group is growing in numbers and members will be taking the lead in Liturgies and Masses next Term.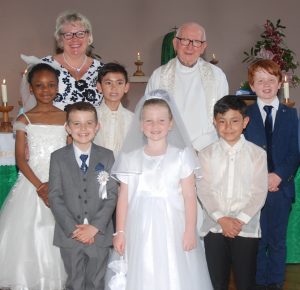 Our Year 3 Pupils receive their Holy Communion in their Parishes and this is celebrated with a 'Going Forth Mass' with all the year's Communicants in the John Fisher Chapel in June each year. This is followed by a celebration 'breakfast' in the Long Room provided by Year 4 Parents.