We have adopted a whole school approach to the teaching of Spanish to all Nursery, KS1 and KS2 pupils.
 Aims
Our aim is to develop the confidence and competence of each child in the foreign language they are learning. Our goal is for them to be passionate, curious and confident about their own foreign language learning abilities when they finish the primary school phase of their education.
We will help them develop and demonstrate substantial progress in the 5 key language skills necessary for learning Spanish:
Speaking
Listening
Reading
Writing
Grammar
Pupils have access to 'Language Angels' online software and regularly take part in Spanish themed assemblies.
We are partnered with Ceip Parque Eugenia de Montijo school in Madrid and pupils exchange pen pal letters written in Spanish and contact each other via Skype calls during assemblies.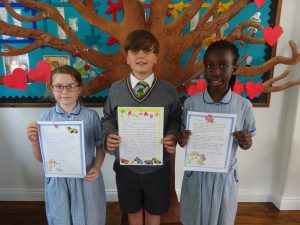 French Club
Señora Higham offers a French after school club on Tuesdays for 1 hour targeted at KS2 students. It enables students to learn a second language and also uses the Language Angel tools such as videos, songs, worksheets and games. This club also supports students coming from other schools to continue with French.