At Laleham Lea School, we strive to keep our fees moderate and competitive. They are reviewed annually by the Governors. Parents are given one full Term's written notice of any increase. Fees were frozen for 2020/21 and remained at the same rate as 2019/20.
Fees are due no later than the first day of each Term. One Term's written notice of withdrawal of a pupil is required; the school contract does provide for a full Term's fees in lieu of the requisite notice. Please contact the School Business Manager if you require any further information.
Reception Class Fees 2022/23 (includes hot lunch):
Our Local Authority provides funded places within the Nursery and Reception Class for all children aged 3 to 5 years. Funding commences on the first day of the Term following the child's 3rd birthday and ends on the last day of the Term in which the child has his/her 5th birthday. This is subject to annual confirmation.

Year 1 – Year 2 Fees 2022/23 (includes hot lunch):
£3,192 per term (£9,576 annually)
Year 3 – Year 6 Fees 2022/23 (includes hot lunch):
£3,285 per term (£9,855 annually)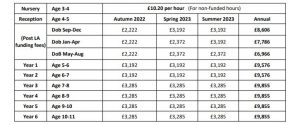 Sibling Discount
For all existing pupils at Laleham Lea School, the sibling discounts will remain the same as 2021/2022
The sibling discounts for new students from 2022/2023 are:
5% for the second child
10% for subsequent siblings
All siblings must be attending Laleham Lea School in Reception to Year 6. Discounts do not apply to siblings in the Nursery.
Early Birds' Club/ Late Leavers' Club
Laleham Lea offers childcare for Pupils in Reception to Year 6 from 8am to 5.30pm with our Early Birds' and Late Leavers' Clubs.
Those students requiring Early Birds' Breakfast Club can be dropped off between 8:00am and 8:30am each day and enjoy breakfast with their friends.
Our Late Leavers' Club runs from the end of school to 5:30pm and is open to all students from Reception to Year 6. Any student attending an after school club until 4:30pm may join the Late Leavers' Club till 5:30pm if required.
Early Birds' Club and Late Leavers' sessions must both be booked in advance on a Termly basis. Booking forms will be sent to Parents along with after school Club sign up sheets before the end of the preceding Term.
Early Birds': £6 per day
Late Leavers': £3.85 per 30 minute session when pre-booked- Sessions must be pre-booked on a Termly basis.
Unbooked ad-hoc sessions and late collections will be charged at £5.50 per 30 minute session attended.
Penalty for collections after 5:30pm – £40 per child per 15 minutes